Marion Stoll, 88
Published on April 7, 2021 at 3:20pm EDT | Author: Chad Koenen
0
Marion Frances Palmer (88) passed away peacefully on March 31, 2021. Marion was born the fifth child of six children on March 18, 1933 to Fred and Frances (Ulschmid) Palmer of rural Frazee. She was delivered by a midwife at the home farm in Evergreen Township in Becker County. Marion was baptized August 4, 1933 at Sacred Heart Church, Frazee, and confirmed May 8, 1953 at Holy Rosary Church in Detroit Lakes.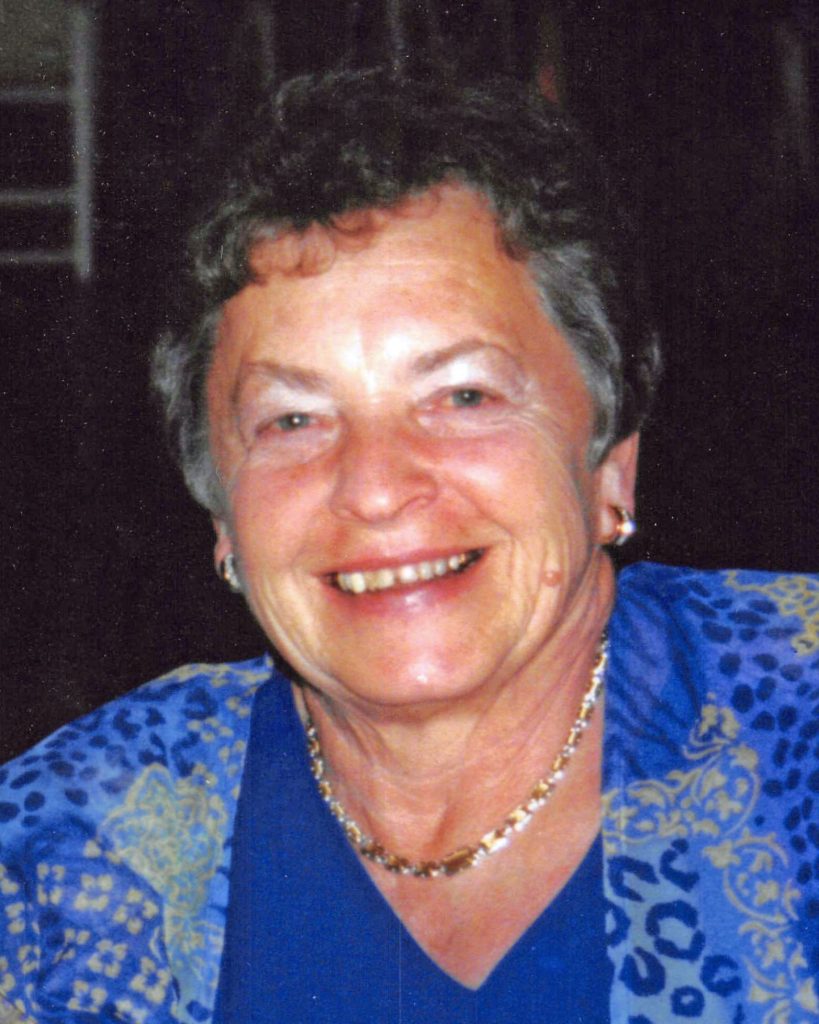 She attended School District #532 in Evergreen Township where many times their Dad would take them the 1.5 miles with a team of horses and sled to the one room schoolhouse. Many memories were made visiting the grandparents, uncles, and aunts who lived close by. They enjoyed the winter sled rides behind Uncle Vernon Daggett's car and the many spills that went with the fun. She remembered the visits from the 'far away' cousins, the Kittlesens and Symons. Marion graduated in 1951 from Frazee High School and worked four years at North West Bell Telephone Company in Detroit Lakes. On Monday, June 6, 1955, Marion married Eugene Joseph Stoll at Sacred Heart Church, Frazee. Marion always said, "sharing my birth date, March 18, with Gene has given our family many special memories. It took me a long time to find a man who shared my birthday so he couldn't forget the date!"
Marion and Gene are the proud parents of seven children and at one time they had six teenagers in the family, and it showed by the amount of food that was prepared. After the children were all in school, Marion worked part-time as a bookkeeper at the Dent Creamery for several years until it closed. She then worked parttime at the Dent Elementary School for 17 years.
When the children were growing up, they had many out of state camping trips as a family and kept busy attending their school activities. Marion enjoyed sewing, quilting, baking, and flower gardening. Over the years she decorated many cakes for the family for various occasions, including wedding cakes for four of their children. Her most precious memories are all the time spent with Gene and their children, grandchildren, and great grandchildren.
Marion and Gene enjoyed having a night out to dance polkas, waltzes, and two steps, or playing cards with friends. They enjoyed traveling to all 50 states, Europe, Canada, and Mexico. Some of their trip highlights included hot air ballooning in Minnesota, white water rafting in Wyoming, walking on glaciers in Alaska, riding a gondola in Italy, a glass bottom boat in Hawaii, horse trail riding in Colorado, and visiting Niagara Falls, New York City, the world's largest shopping mall and indoor swimming beach in Edmonton, Canada, and many more happy memories.
Marion was active in the Dent Community Club, the Dent American Legion Auxiliary Post 148, and a charter member of the Dent Diggers Garden Club. She chaired both the 1979 Dent Diamond Jubilee book and the 2004 Dent Centennial book. Marion served on the board of the Otter Tail County Productive Alternatives (DAC), receiving a plaque for her many years of service. She was a charter member of the Sacred Heart Christian Mothers. Marion was a very Christian woman who had an extremely strong faith in the Lord.
Gene and Marion's motto is the 4 Fs … Faith, Family, Food, and Fun, not necessarily in that order. Marion recently said, "We have lived in the same house we started married life in. As the family grew, the house grew. I have said I have the best of both worlds… living a block off Main Street in Dent and looking out over the country. We have been Blessed with 65 years of marriage and a full life of love with family, church, and community."
Marion was preceded in death by her parents Fred and Frances Palmer; three sisters Betty (Huck) Frank, Vivian (Norbert) Rohr, and Dorothy (Paul) Roes; and brother Kermit Palmer.
Marion is survived by her husband Eugene "Gene" Stoll; five sons and two daughters Tim (Cheryl) Stoll, Ed Stoll, Ann (Dean) Scheidecker, Tony (Rose) Stoll, Jim (Christi) Stoll, John Stoll, and Patty Stoll (Lance Parthe); 15 grandchildren Emily (Mike) Neels, Erica (Gerald) Loher, Ennon (Zane) Kotschwar, Elliot (Marissa) Stoll, Aaron (Jill) Thibert, Danielle (Matt) Nagel, MacKain (Kelli) Stoll, Rebekah Stoll (Grant Koenig), Tina Scheidecker, Amy Scheidecker, Nicholas Stoll, Samuel Stoll (Brad Meany), Matthew Stoll, Anna Stoll, and Michael Stoll; 18 great-grandchildren; one brother Dr. Rodger "Buddy" (Elaine) Palmer and Sandra Palmer; and many nieces, nephews, and countless close friends.
Per Marion's request, a private family Mass will be held at Sacred Heart Catholic Church in Dent. Once complete, a webcast of the Mass will be available on Marion's webpage: https://www.schoenebergerfh.com/obituary/Marion-Stoll
Schoeneberger Funeral & Cremation Service, Perham, MN (218) 346-5175 www.schoenebergerfh.com