Ralph Palmer, 84
Published on January 26, 2021 at 6:02pm EST | Author: Chad Koenen
0
Ralph Edward Palmer was born on April 10, 1936, in Perham, Minnesota, the son of Howard and Rose (Ahrens) Palmer. He passed away January 15, 2021, at Diamond Willow Assisted Living in Detroit Lakes, Minnesota.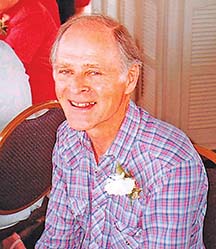 He grew up on a farm in Evergreen Township and graduated from Frazee High School. Ralph continued his education at Dunwoody Tech in Minneapolis. He served his country in the U.S. Air Force and was stationed in San Antonio, Abilene, Texas and Fairchild AFB in Spokane, Washington. Ralph received his honorable discharge and returned to Minneapolis to work at Honeywell Computers as a Field Service Engineer.
Ralph was united in marriage to Beverly Klug, and they made their home in Boston. He was later transferred to Denver, where he operated Honeywell's Service Computer in the Denver Tech Center. He worked for 18 years at the Denver Post Newspaper. Ralph enjoyed hunting, skiing and all things outdoors. He missed the lakes and the woods of Minnesota and returned to the Ely area, enjoying lake living on Birch Lake.
He moved to Northwinds in Perham in 2019 and was currently living at Diamond Willow in Detroit Lakes.
Ralph is survived by his sister: Arlene Palmer Simpson; nieces and nephews: Kathleen (Bill) Lindow, Cindy (Bruce) Kading, Julia (Jim) Montgomery, Gwen (Gary) Mathews, Jay (Patricia) Simpson.
He was preceded in death by his parents: Howard and Rose Palmer; brother and sister-in law: Morris and Betty Palmer; brother-in-law Robert Simpson. 
Funeral service at a later date.  Furey Funeral Home is assisting family with arrangements.  www.fureyFH.com