Viola Damlo, 98
Published on January 6, 2021 at 12:56pm EST | Author: Chad Koenen
0
Viola Barbara Damlo, 98, a lifelong resident of Frazee, MN, passed away December 25, 2020, at the Frazee Care Center.
Viola was born on September 11, 1922, the youngest daughter of Frank and Christina (Dertinger) Peichel. After attending rural school district 90 in Silverleaf Township, she graduated from Frazee High School in 1941. On November 28, 1946, she was united in marriage to Fred Damlo. They made their home in rural Frazee and raised five children.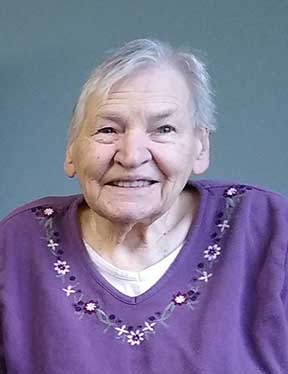 Viola was a devoted daughter, wife, and mother. Her children remember that everything revolved around family. Viola was first to provide the house and hospitality for family, friends, and neighbors and she loved to cook and entertain. Holidays and Birthdays were celebrated with big, extended family gatherings. Card games and card parties were her favorite and she was still playing cards at 98. She was a doer and a maker – canning, quilting, running the household, and sewing clothes (including matching outfits for the girls every Turkey Days).
Her grandchildren remember hugs so tight they'd squeeze the air out of you, hours of playing board games together, and her delicious canned cherries and peaches. She loved to make others laugh, especially with a joke or well-timed one-liner, delivered with a mischievous twinkle in her eye.
Viola was a lifetime member of Sacred Heart Catholic Church in Frazee, where she was very active with the Christian Mothers, committees, and events. She was the parsonage housekeeper for over 30 years and served six different parish priests. Viola loved the Frazee community. She maintained meticulous scrapbooks documenting years of Turkey Days celebrations and amassed a large collection of turkey-shaped, ceramic salt and pepper shakers.
Viola is survived by her children: Roger (Penny) Damlo, Russell (Karen) Damlo, Kenneth Damlo, Barbara Damlo, Beverly Brouillet; grandchildren: Sarah Damlo, Stephanie (John) Marlow, Christopher (Stephanie) Damlo, Nicholas (Samantha) Brouillet, Stephen (Katie) Damlo, Karleen Sherman, Daniel (Toni) Brouillet; great-grandchildren: Liam, Jackson, Jameson, Gavin, Sawyer, Charlie, Brycen, Nolan, Connor, Kaylee, Lukas, Junia, Esther, Owen, Natalie; and numerous nieces and nephews.
Viola was preceded in death by her parents: Frank and Christina Peichel; husband: Fred Damlo; son-in-law: Robert Brouillet; great-grandchild: Julian Anderson; and her ten siblings.
A private burial was held with her immediate family, and a public memorial service will be planned at a later date.