Walter Lenius, 93
Published on February 9, 2021 at 4:15pm EST | Author: Chad Koenen
0
A Funeral Service for Walter William Lenius of rural Detroit Lakes, MN will be held on Saturday, February 13 at St. John's Lutheran Church of Height of Land. Visitation will be held at the church one hour (1:00) prior to the service (2:00). Burial will be at the Lakeside Cemetery in Frazee at a later date. Walt passed away peacefully on the evening of February 2, 2021 as family members were with him throughout the day. 
Walter William Lenius was born at his family's farm home in Hobart Township, Otter Tail County on August 11, 1927. His parents were Hugo Lenius and Lizzie (Seibold) Lenius. He attended country school at District 75, Otter Tail County, and District 65, Becker County. He was baptized and confirmed at Bethlehem Lutheran Church of Frazee.  He graduated from Frazee High School in 1944 at the age of 16. He worked at home on the family farm and then for three years for Geo. Haggart Construction of Fargo. He married Wanetta Perrine of Rochert in October of 1950, they would divorce in 1966, together they had four children: Larry, Linda, Wayne and Wesley.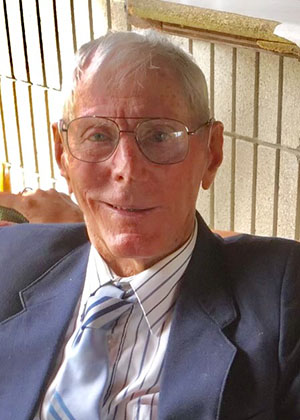 He entered the Army on November 1, 1950 and was assigned to the Engineers. He graduated first in his class from the Heavy Equipment Operator School at Ft. Belvoir, Virginia. He then spent one year in Germany in the WWII Occupation Army. After returning to the USA, he was transferred to inactive reserve and received an honorable discharge in 1957. He worked 21 years for Russell McCarty Construction of Frazee and then he and a friend, Elmer Nickolauson, bought the company and ran it as Lenius & Nickolauson Construction for about 12 years. As far as earth moving work goes, everyone in the area knew that Walt was the best "CAT-skinner" anywhere around. When he and Elmer decided to retire and sold their equipment, he said that he cried a little the day that he watched that old D8 roll down the road on the lowboy trailer. A chapter was closed.
After retiring from construction work, Walter was the Becker County Ag Inspector for 14 years. It was always within his character to volunteer where he felt there was a need and over the years, he was at one time or another; a Frazee Cub Scout leader and Scoutmaster, a life member of VFW 7702 with 4 years as Post Commander, life member of DAV – Disabled American Veterans, a licensed and certified local assessor for 25 years, member of the Becker County Historical Society with 2 terms as President, certified Firearms Safety Instructor, State Fire Warden, a School and Township Election Judge, and Township Supervisor for 8 years. He and Sharon were members of the 412 Lakes Car Club.
Of his many hobbies he enjoyed reading, (primarily history), putting up a big garden, designing and building creative woodworking projects and restoring several old Studebakers. He and Sharon loved to travel with trips over the years to Hawaii, Mexico, Florida, and many spring trips out to the Oregon Pacific coast. Researching the Lenius family genealogy back to the early 1700's in Germany. He also loved the outdoors, hunting, fishing, and trapping and passing on these skills and traits to his sons. 
In April of 1971 Walt married Sharon (Beck) Tate. Sharon had two children from a previous marriage, Kim and Donnie. Together with their blended/extended family, they had 6 children, 13 grandchildren, and 18 great grandchildren. In an interview he gave to a local newspaper he was quoted as saying, "Our grandchildren are the greatest blessing."
Walter is survived by brothers, Arthur and Howard; sister, Amy; his children, Larry (Debbie) Lenius, Moorhead, MN, Linda Lenius of Detroit Lakes and Wayne (Jansie) Lenius, Grand Rapids, MN, stepchildren, Kim (Jim) Tate, Frazee, and Donnie (Tammy) Tate, Detroit Lakes. Grandchildren; Sam (Kacey) Lenius, Laura (Zach) May, Jessica Johnson, Angela Johnson, Alex Johnson, Andrew Johnson, William (Brynden) Lenius, Hannah (Steven) Chesness, Shaine Tate, Kelly (Candace) Miletto, Traci Jo (Luke) Lundgren, Dustin (Angela) Tate, Danika (Scotty) Jay.
He was preceded in death by his parents, Hugo and Lizzie Lenius; his wife, Sharon; son, Wesley; sister, Dorothy and brother, Victor.
He had a simple philosophy on life and was once quoted as saying, "Enjoy life while you can, just be thankful God gives you all these things to enjoy."
Walter's family would like to extend its sincere gratitude for the wonderful care their father (grandfather) received while residing at the Emmanuel Nursing Home in Detroit Lakes. Also, to the staff of Red River Valley Hospice for their care and visits.  
www.FureyFH.com