A long-lost sister city
Published on January 12, 2022 at 2:33pm EST | Author: Chad Koenen
0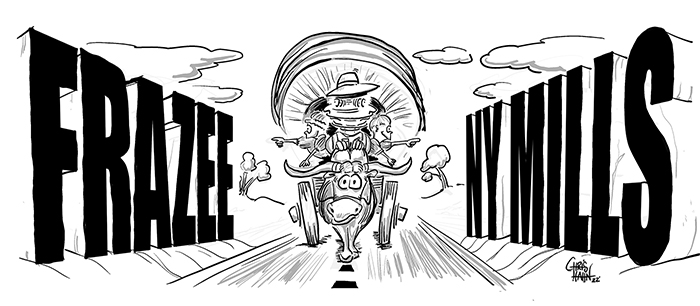 Tucker Henderson
Reporter
The title "Founder" of New York Mills can be postulated upon a number of people. Many may think of the early Dr. Henry Van Aernam, Olcot Boardman, or George Cornwell, who were the three main men who established the New York Mills Company in 1872. Others may say that those such as Olaf Pary, Jerry Winslow, or Ambia Blowers, deserve the title, all of whom were prominent businessmen in the vicinity and helped incorporate the village.
Though I don't believe there is one true founder, a case can be made that the first settler to homestead this region and develop its land has a claim for "Founder." The city's first English name clues you in on who that may have been.
When the railroad came through in 1871, an enterprising man removed himself from Ottertail village to a 160-acre plot of land in Section 8 of Township 135 North Range 37 West (now known as Newton). Here, his son was born, and several mills were constructed, then christening the area "Frazee's Mills." That man, of course, was Randolph Lafayette Frazee, better known as R. L. Frazee.
Interestingly, the mills have been recorded as flour, steam, or lumber mills depending on the source. These mills were said to have burned down in the summer of 1873.
R. L. Frazee was a prominent businessman and was active in several communities in the area including Ottertail, Pelican Rapids, and of course, Frazee. When the New York Mills Company came along in 1872, Frazee sold his land and milling rights to them before making his next venture to his next community which now bears his name.
Mr. Frazee had actually made an attempt to dub the then-nameless Newton township after himself. The county commissioners granted this request and the township was to be named Frazee. No meeting was set and no further attempts were made to organize the township, so that name quickly fell by the wayside.
After R. L. Frazee moved out of New York Mills, his history with the town seems to have ceased. When he died, the Star Tribune remarked that he founded New York Mills. The one remnant that tells of his past in New York Mills is Frazee Avenue which sits within the borders of his long-ago land patent. You might say that New York Mills and Frazee are long-lost sister-cities, only time and memory have separated them.