Calving season is underway
Published on March 28, 2023 at 12:45pm EDT | Author: frazeevergas
0
By Tyler Trieglaff
Notes from the Chief
Welp, no calves yet. 
The heifers are starting to bag up real nice so I would expect any day the calves will start hitting the ground. The heifers have some bedding and shelter to get out of the elements if need be. We really need to get the calving supplies ready as I have not done that yet. The supplies are kept in a tool box and that is how we doctor the calves when they are born. Ear tags, taggers, bands (for the boys' boys), iodine, calf paste, and Inforce 3 are kept in the toolbox. 
Each calf is marked with an ear tag matching its mother's number. The cows will be able to read the calf tags so they know whose calf is whose. Heifers are tagged in the left ear and boys in the right. The bull calves get a nice little cheerio rubber band around their testicles as we have found this is the easiest way to castrate the bull calves for us. The iodine is sprayed on the calf's wet navel to prevent infection.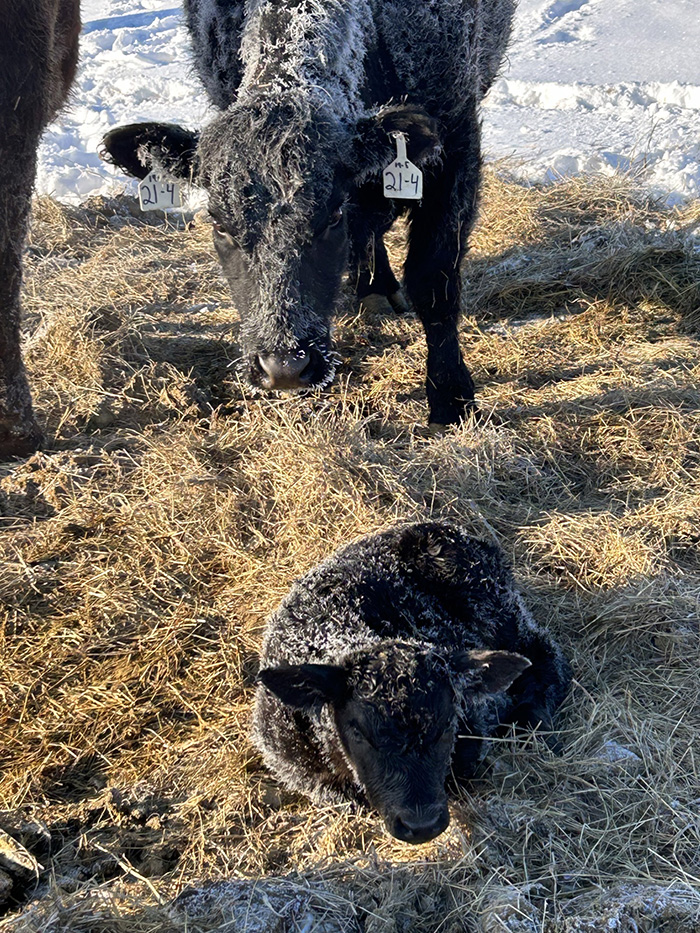 We give each calf a dose of CONVERT™ Day One Gel (5cc) at birth. CONVERT™ Calf Products are a special blend of naturally occurring direct-fed microorganisms (Enterococcus faecium, Lactobacillus acidophilus and Bifidobacterium), unique and proprietary L-form Lactobacillus, microbial sugars, enzymes and specialized proteins. These ingredients provide essential management tools for production and environmentally related challenges. These products do not contain antibiotics and are proven to be safe and effective. All that science gibberish hopefully means healthier calves for us. We also give a dose (2cc) up the nose of Inforce 3. Inforce 3 is an intranasal vaccine used for the vaccination of healthy cattle for the prevention of respiratory disease caused by BRSV, and as an aid in preventing respiratory disease caused by IBR and PI3. We give 1 ml in each nostril.
After we find a new baby, I will make a tag that matches mama and get rest of the toolbox items ready. I have the bander loader with a rubber band, ear tag on the tagger, CONVERT tube of paste set to 5cc, Inforce 3 mixed and in the small syringe, and iodine bottle ready to go. The tagger is in one pants pocket, the CONVERT paste is in another, the Inforce 3 syringe is in my mouth, bander is in one hand and iodine in another. 
Using my cat like reflexes I strategically approach the calf keeping one eye and ear on mama. I use grab the right rear leg and lift the leg to expose the under carriage to check for the testes. If it's a boy, I crouch down, open the bander, pull the sack through the band and manipulate the testes into the sack and the bander is closed and in a couple weeks we will have a steer. I will then spray the navel with the iodine. By then the calf is usually standing up so I put the head between my legs like a stanchion. I grab the head and gently squirt 1 cc of Inforce 3 into each nostril. There is a special plastic tip on the syringe instead of a needle, this way we don't hurt the nostrils. That syringe is back into my mouth and the calf paste comes out and their mouth is opened a little and the 5 cc's are squirted in the mouth. Last but not least the ear tag is applied. I save this for last because the calf sometimes likes to let out a bellar, alerting mama to some sort of distress. Once the calf is tagged it's high time to leave it be and send it back to mama. 
It is easiest to work the baby calves when they are under 2 days old, under 1 day is better. After that my catlike reflexes aren't quite quick enough to catch the little buggers. I have never timed myself, but I figure I can approach a calf in ideal conditions and get everything done in 20-30 seconds. That is if the testes are cooperating, the calf isn't jumping all around and mama isn't charging me with her head down causing me to high step across the pasture. I've been chased a few times and rolled up arse over tea kettle once. Let's hope this calving season goes well for us!
Friday, March 17
7:08 p.m. Vehicle parked in the driving lane on W. Main Ave. Driver moved vehicle.
Monday, March 20
8:01 p.m. Welfare check requested on male who has not shown up to work for a few days. Male was found deceased of natural causes.
Tuesday, March 21
8:55 p.m. Welfare check requested on grandkids in town by grandmother in Illinois. All appeared normal and grandma was notified.
Wednesday, March 22
10:24 a.m. Assist with a medical at the Frazee-Vergas Elementary School. 
2:54 p.m. Welfare check on same grandkids from same grandma from the night before. Officer saw dad driving the kids home from school while on the phone with grandma. Officer talked with dad and gave the cell phone to grandson and he was able to talk to grandma. Dad told officer that he didn't feel like talking to grandma and that is why the kids hadn't talked to her in a while.
5:25 p.m. Assist daughter of deceased male from Monday night in getting into his house. Officer helped make phone calls to landlord and maintenance man to get a key to start the property removal process.
Thursday, March 23
9:45 a.m. Disturbance on E. Main Ave. with male and female arguing over car being snowed in by the snowplow and boyfriend hadn't shoveled the car out.