Chill report for March 22 
Published on March 30, 2022 at 2:44pm EDT | Author: Chad Koenen
0
Chill Fishing Report
Cody Hill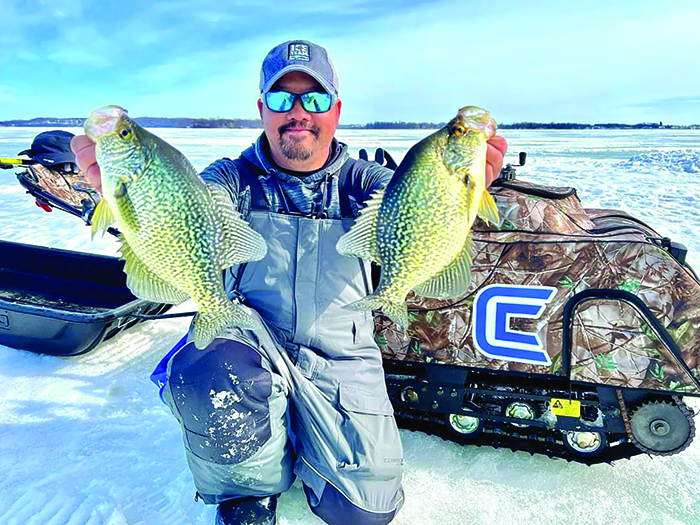 In typical Minnesota fashion we have gone from arctic cold to spring in a few days and the ice conditions have gone from safe to dangerous quickly. Over the weekend multiple vehicles dropped their front ends through the ice. Going forward it's back to using wheelers and walking to get around safely since our main ice sheet has good ice but the shorelines are going downhill quickly.
I got out on Saturday with some friends and tried a new to me lake that I have been wanting to try and had high hopes of chasing some late ice gills and crappies. Sadly, no matter the direction we went and the areas we checked we couldn't find fish and it was very humbling to strike out. We decided let's not waste our time and switched lakes mid-morning and along the drive we saw lots of people out and about enjoying the nice day. First lake was solid when we got off it but a short 30 minutes later lake number two was not solid and had 6-8 inches of slush on top of the ice. This made travel very difficult, but we made it to the spot we wanted to try. Due to previous holes drilled the area of the lake was dry. It didn't take us long and the fish were stacked up.
Being almost 11 a.m. bigger presentations were used, and the crappies were aggressive! Some were shooting up 3-4 feet to inhale our lures. At one time we had two 14-inch crappies being released for a video and in the process a third was being caught. The large crappies were finally aggressive and were snapping mid-day but just as quickly as they started snapping, they started spreading out in the basin. Even though they were aggressive they would make small moves away from you and it took switching holes to catch big fish again. 
Color didn't seem to matter the most except for plastics. They did not want bright colored plastics like my typical White and Bubble Gum presentations but brown or motor oil color seemed to do best. Spoons worked also well with the Pin Head minnow bringing a lot of fish topside. Regardless of your lure type jigging a few feet above the school seemed to be best to call the big crappies up and out but if you dropped into the school only the gills would bite. We stopped fishing around 2 pm to head back to shore. Conditions had gotten worse with a lot of standing water on the ice and the shorelines were getting soft with direct sun hitting on them. Since I have tracks, I didn't struggle but I heard some four wheelers behind us struggle to get through the shoreline snow and onto land.
Saturday afternoon I saw some friends going to check a tullibee lake, so I decided to join them. Tullibee were active and chasing instantly and in the two hours we fished we landed almost 30 fish. Preferred lure was a blue and silver Kastmaster with a 4.5 mm Panfish Pirate Raptor jig underneath it. I had clients coming in for Sunday morning, so it was good to scout for them but with my weekend luck Sunday morning the fish were very lethargic and didn't want anything to do with the Kastmaster set up but wanted only the large Clam Peg spoon with the same jig below it. When I fish tullibee I run two lines and as the day went the Kastmaster presentation was quickly becoming more popular. 
With ice conditions the way it is I am officially done guiding for the ice season and am looking forward to open water. I have an Ice Fishing Minnesota Pro Staff get together this upcoming weekend and after that it's time to put my gear away for the year and start transitioning to open water. I was informed my new boat is being picked up on Thursday and they will start rigging the boat after they get it back to the dealer. I am very excited to be fishing out of a brand new 1875 Lund Pro Guide this year and I look forward to booking customers this summer and fall.