Short lived ice fishing season is nearing an end
Published on February 10, 2022 at 11:47am EST | Author: Chad Koenen
0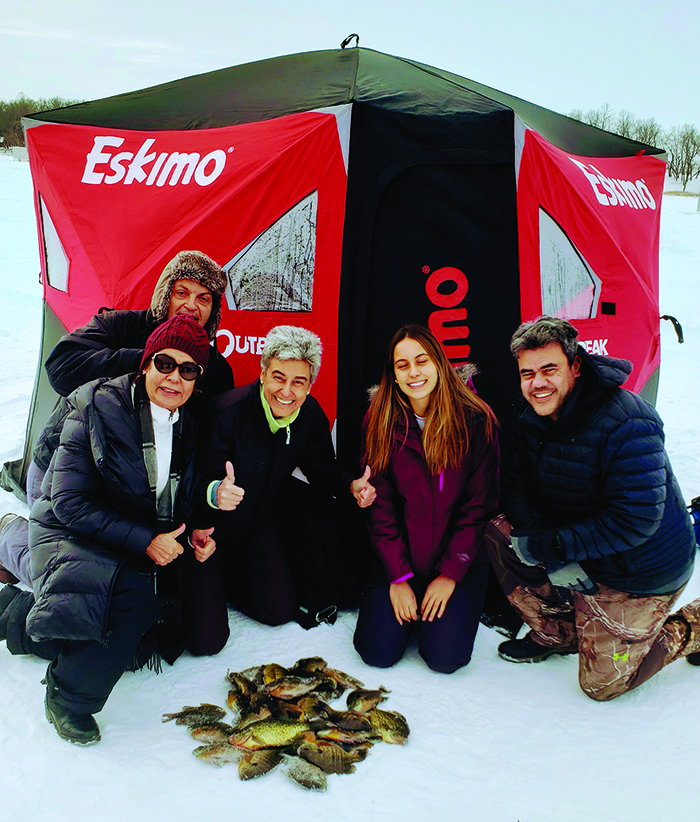 Chill Fishing Report
Cody Hill
This past weekend the Red River Boat Show took place and that is a sign that the short-lived ice fishing season will not be lasting forever and in Minnesota seasons are starting to near the end. Some important dates to think about in Minnesota are coming up and they are February 27th which will close out our "Game Fish" season and the two fish house removal dates of March 7th (southern inland waters) and March 21st (northern inland waters). We are down to just a few weekends left so if you have been saying I'll go next weekend you are starting to run out of time without making the trips to a border water. 
We tried a few lakes this weekend and marked a ton of fish on one, but they would get within feet of our house and turn around and leave us. After dark bigger and more aggressive fish came into our area but they would chase our lures but wouldn't bite. We tried almost everything in our tacklebox but just couldn't get them to bite. When we left that night the spot, we were fishing had maybe 4-5 houses on it to begin with but at the end of the night an easy dozen was set up with almost that many portables spread throughout the area. We did pick a few random crappies and some big bluegills on 4 mm tungsten jigs with a Glow Blue Zoid plastic from Panfish Pirate. Wax worms and larvae were needed for the bites, or you didn't have a chance at a bite.
Sunday, I had the privilege of taking 5 people out from Brazil. The group had never really been on the ice before and had never fished before in their lives. They thought it was cool how our hubs popped up so quickly and once I started drilling holes how the ION cut through the ice to make the hole. It was awesome watching their faces light up on something we take for granted every time we fish. I gave a crash course on fishing, and it didn't take long for everyone to cycle through and catch their first fish for a photo. I took the group of three women, and it was a learning experience for me because I do not speak Portuguese, but it was a blast. The fish were aggressive immediately when we got onto the ice with a lot of our big fish biting instantly. As the day went on the fishing activity slowly died down but the first 3 hours was nothing but baiting hooks and taking fish off for the three ladies. We had a nice mixture of species and year classes which I love to see, and it was awesome our big fish of the day was caught by grandma and grandma even held the fish for her picture. Afterwards I hear "I can't believe you got grandma to hold a fish!"
I've talked about before hand to stay actively changing baits when it gets slow, and fish are down there, and this was the same case. A Zoid in Bubble Gum Pink was the HOT color right away then it switched to Glow Blue and stayed there the whole day for us. The other house had no luck on Zoids and had great luck on Ripper Greens. I think in my house we tried 8 different colors and 2 different styles of plastics throughout the day. Something that was given with both of us was the use of wax worms. If you didn't have wax worms, you were not getting bites.
Recap, what worked best was 4 mm tungsten jigs and yellow with white was the best color. Plastics Zoids or Rippers depending on the bite but Glow Blue, Green and Bubble Gum were the top three colors. With how well our group did on Sunday morning I think the better bite time for that lake was in the morning and not evening.
I have been hearing reports that Tullibee and Burbot are starting to pick up some in our area and it will only be a matter of time before those bites pick up in our local lakes.  My reports from the people targeting walleyes are that they were really tough to pick up this weekend and the bite was inconsistent.